The End of an Era or the Beginning of a collection?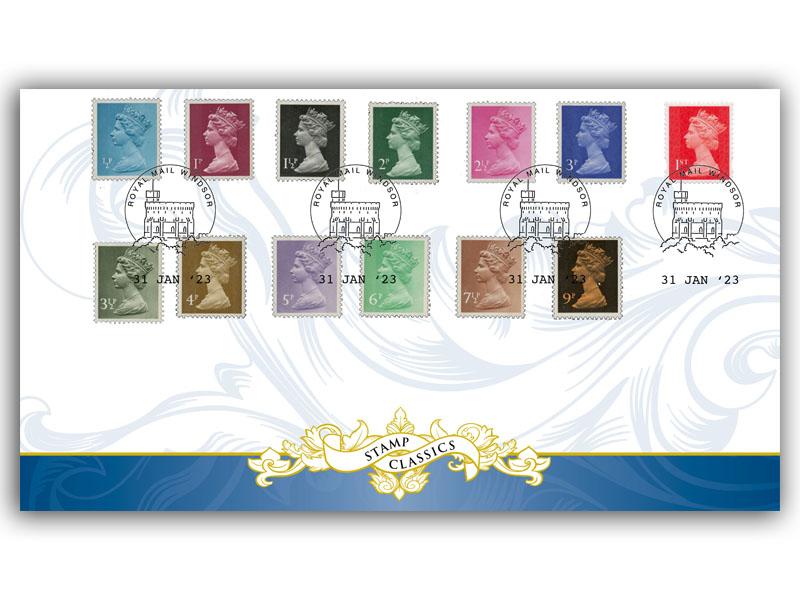 2023 is a big year for the humble Machin.

Royal Mail had already announced that these would stop being valid after the 31st January 2023 to be replaced with a version with a barcode attached. Then with Her Majesty passing away, at some point next year the Machin will start to be replaced with a brand-new definitive King Charles III head and we will all have to learn not to call them 'Machins' any more.
Many of us have never known another design, in fact at this point I should give 'full disclosure' and say the first one was issued two days before I was born, so I really haven't!
So, what is the appeal of these little stamps, why do so many people collect them, alternatively why do so many avoid them and how do we change their minds?
Well, I could say there is much more to them than people realise, with the option to collect as much or as little as you want. There is no right or wrong, you could start with just that year's new values, maybe two or three covers a year, right through to different phosphor bands, printings and even changes to gum (very hard to tell on a first day cover).
But instead, I will draw you in by telling you how one little green 8½p stamp from 1976 made me smile.
On the 24th March 1976 an 8½p stamp was issued with Phosphor coated, I would say it makes the stamp dull (in the print finish) rather than shiny. This was an experimental issue, probably to try different ways of sorting mail. The stamp was only available in certain towns and cities, which is commemorated by the cachet on the front.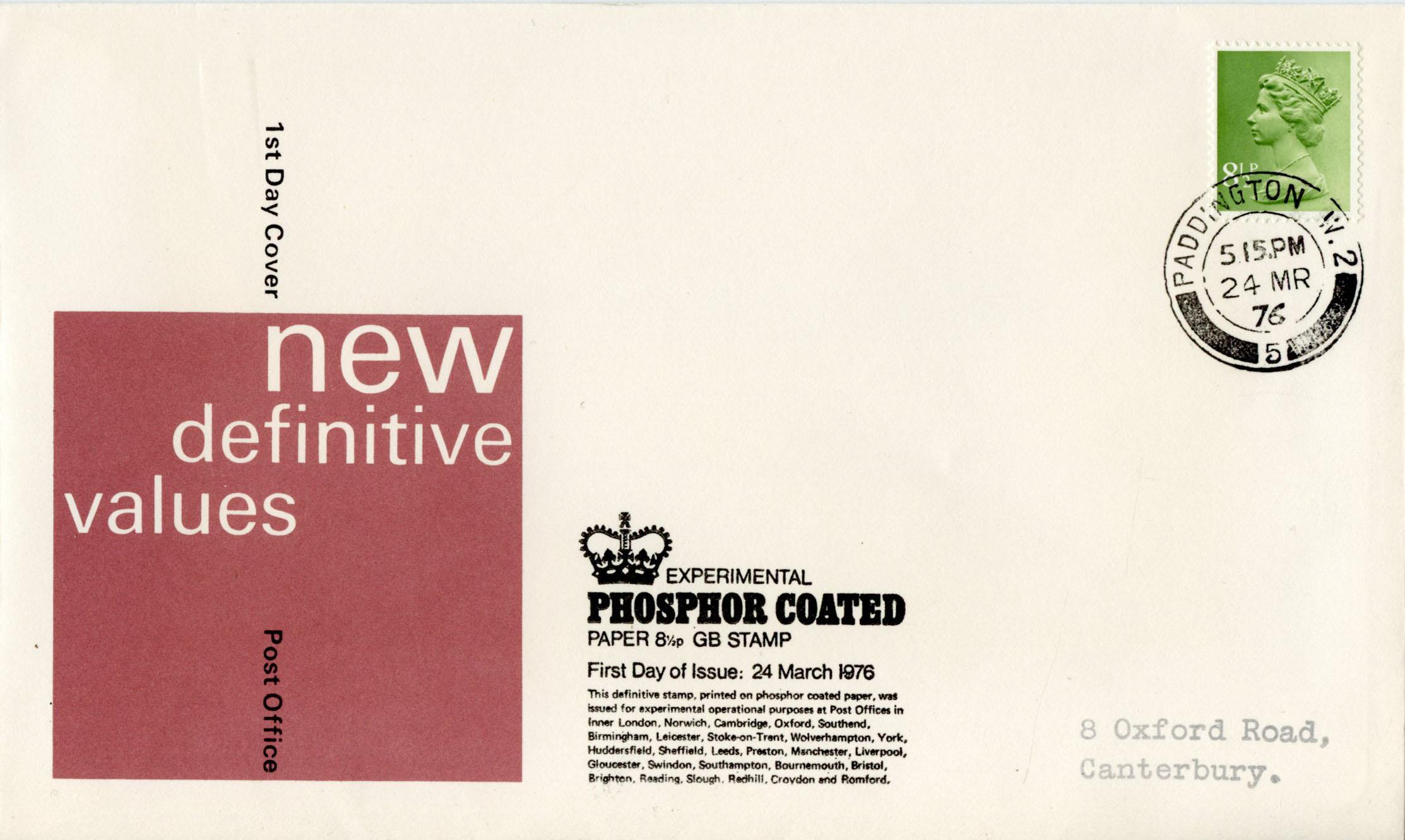 The collector who produced the covers took it upon himself to have a cover postmarked in each place, 27 are listed on the cover, but this collector took it to the next level. One of the places is just listed as Inner London and so he did nine different London postmarks!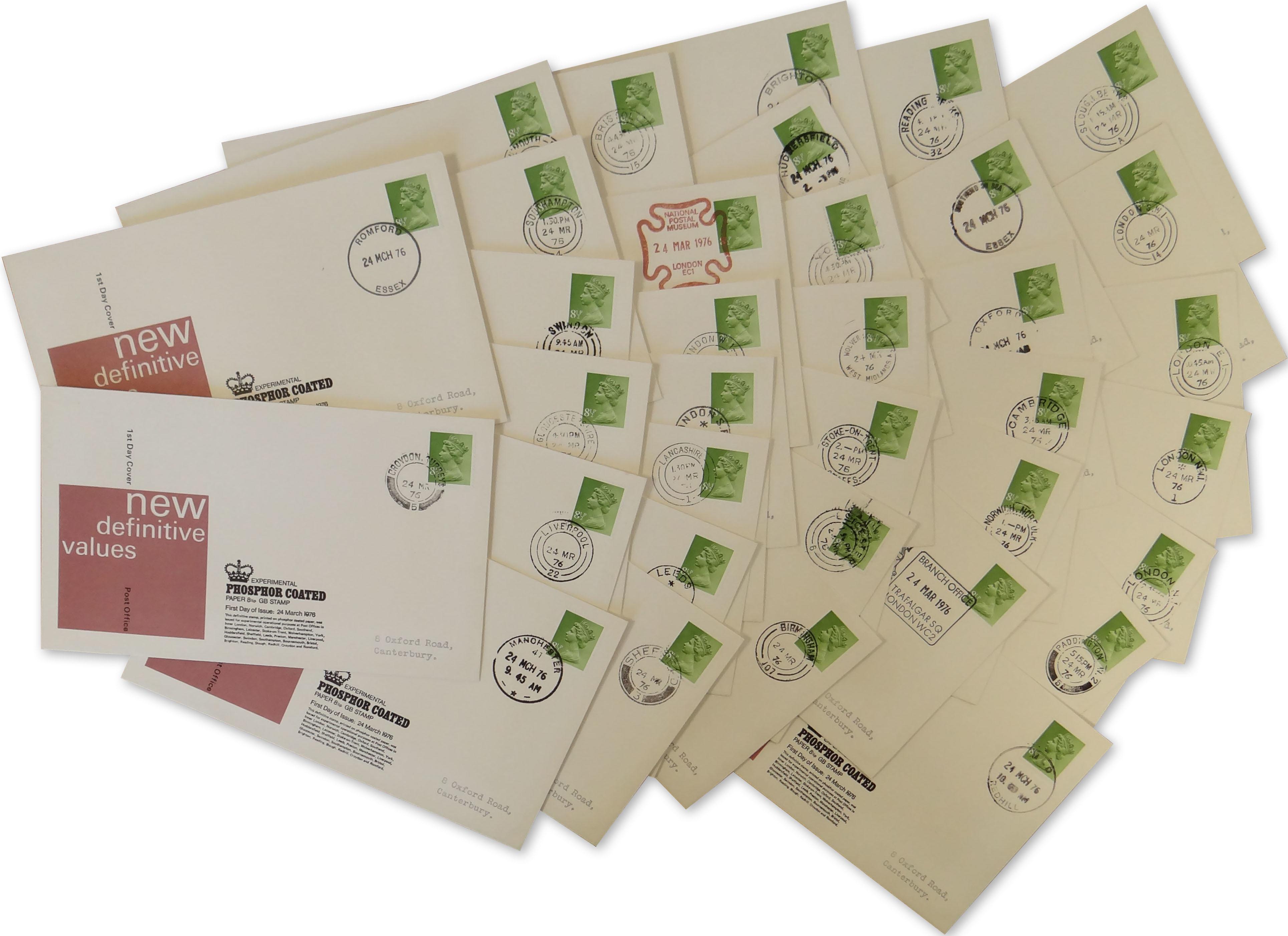 The other thing to remember is that they are all cancelled with working CDS postmarks, in real Post Offices, so each cover had to be sent, under cover, with a letter asking for the postmark, plus another envelope to return it. And even if it arrived safely back, what would the condition be like? Would the postmark be clear and readable? Would you even get it back?
As an example, I wonder if he was disappointed when his Preston cover came back with a Lancashire postmark.
It is a cover (or covers) like this that really appeal to me about Machin cover collecting, because you could have just done a cover with the normal Windsor counter postmark, which would have been fine, but for many of the issues, there is another step you could take, and maybe you could claim that 35 of basically the same issue is a little over the top, but I think they are great and know all the Machin collectors will agree as their collections sadly draw to a close, or with great finds like this still out there maybe lots more to collect?
Here is our Farewell to the Machin Tribute cover:
Until next time
All the best
Brian
View my previous blog here: 2022 in Review